Luggage Storage at Victoria Station
Turn you travel days into holidays
Our Pricing
/hour
(+ handling fee)

per bag

You never pay more than per bag for the first 24 hours. per bag for additional days.
The price includes insurance with coverage up to for each bag
Luggage Storage near Victoria Station
Are you looking for luggage storage at Victoria Station? We have several locations just around the station where you can store your luggage. Our LuggageHeroes are open 24hours and will take care of your baggage while you explore the surroundings.
Victoria Station is a major railway and underground station in London. It is located in central London and close to Westminster, Pimlico, and Belgravia. All excellent locations to visit while in town.
Victoria Underground Station is on the District & Circle Lines and the Victoria line. The Gatwick Express train to Gatwick Airport departs and arrives at Victoria Station.
Save time on commuting back and forth because of your luggage and use that time on adventures while visiting London.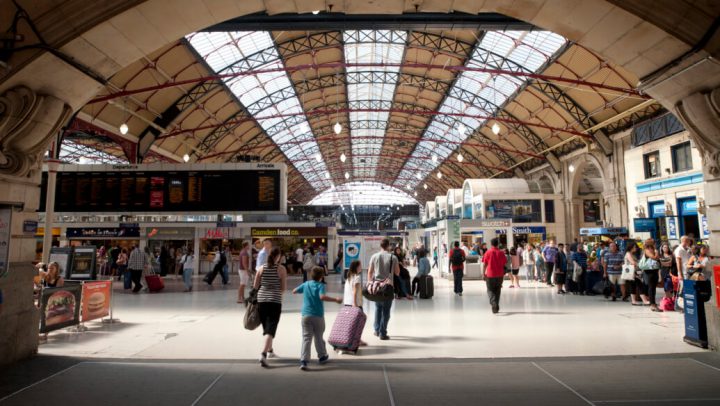 How does it work?
Check In When Arriving at the Shop
Wifi is provided in almost every LuggageHero
Security Seal Found in Shop
Insurance included
Pay Only for the Hours Used
Our customers are saying
"It's brilliant that this service exists. When you are on holiday, you should not waste your time looking after your luggage. We booked a LuggageHero place that happened to be at a restaurant downtown. When we picked up our luggage, we got to eat in a great restaurant too!"
My first time using luggagehero. Actually, we first went to LeftLuggage at liverpool Street Station.
The price for storing 3 bags for 8 hours almost exceeded the value of the content. I've heard of LuggageHero in the past and decided to look it up. We quickly found a nearby place. It was a short walk and had a sign outside for easy spotting. The personnel was professional, easy-going and friendly. Overall a smooth experience and very recommendable!
"A innovative service which enabled us to enjoy a great day in New York, without the burden of our luggage. Simple, secure and extremely cost-effective, Luggage Hero has all the elements of a winning concept with its ease of use and peace of mind. We'll look out for more locations on our future trips."
"We love the idea of using local shops for luggage storage. We had 5 hours before going to the airport and we found a perfect spot right in the center of Copenhagen. We would recommend this anytime."
"Great business idea. Instead of wasting time to find luggage storage far away, you can enjoy the trip. The web-app is easy to use."
Your travel experience is important to us
Insurance and safe luggage storage
In the collaboration between cover holder First and one of the world's largest insurance companies, Lloyd's of London, we are proud to be covering each piece of luggage free of charge every time you use our luggage service. The insurance is covered up to €1700 per item of luggage. Make sure you do not pay cash for a drop-off/pick-up shop because insurance will not cover any bookings that are not paid directly to LuggageHero. You must pay directly to LuggageHero to be covered.

Each piece of luggage seals with a unique identification number for complete reassurance and to guarantee that no one has accessed your belongings. When you arrange for drop-off and pick-up of your luggage, you will receive an automatic receipt via email. The shop will ask to see a valid receipt before returning any luggage to you.
Cash-free
Submit your credit card information for swift drop-off and pick-up at a LuggageHero location. You don't need to worry about having the right currency on hand when paying online. All major credit cards are accepted. The shops do not receive cash when using LuggageHero. The insurance on your luggage is valid only if the payment has been made directly to LuggageHero.
Only Pay if you show up
You don't pay unless you drop off your baggage at a LuggageHero shop. We do this because it's how we personally would like to be treated. Therefore, no amount will be charged if you fail to show up for your booking.
No Download necessary
You don't need to download anything to use LuggageHero. You simply book using our website. Once you are at the shop, you check yourself in using the link provided when booking.
On hand to support everyday
Live Chat 24/7
contact@luggagehero.com
Featured in the international press
Recommended by the official tourist information
Victoria Station
Luggage storage just became cheaper and more convenient than regular storage facilities. Your bags are sealed and insured for up to €1700 when stored with a LuggageHero. With more than 100 shops throughout London, you'll easily find a shop that can take care of your luggage while you are out on adventures.
Victoria Station, also known as London Victoria, is a central London railway terminus and connected to London Underground station in Victoria in the city of Westminster. You will also find the Gatwick Express, the direct train to Gatwick Airport. The trains run up to 4 times an hour, taking you between Victoria Station and Gatwick Airport in as little as 30 minutes.
Victoria Station is one of London's busiest train and bus stations. No wonder that the shops we work with around the station are very popular when travelers need a place to drop their luggage.
Several tourist attractions are accessible from Victoria station including Buckingham Palace and St James's Park.
Victoria station can provide you with several services:
Opening hours – Monday – Sunday between 05:00 and 03:00.
Toilets and baby changing.
Cash and bureau de change
Wi-Fi is available with, pay as you go, wireless internet access from BT Wi-Fi
Food and drinks are severed 24 hours.